Discover more from Antonio Dias
Attending to the intersection of perception and creativity as an artist, designer, writer, musician. Complexity cannot be reduced to any given certainty.
Cross-post from Antonio Dias Art
I've created a new site for my painting. I've cross-posted a series of essays from this site to introduce to readers/viewers there. Now this post goes in the opposite direction.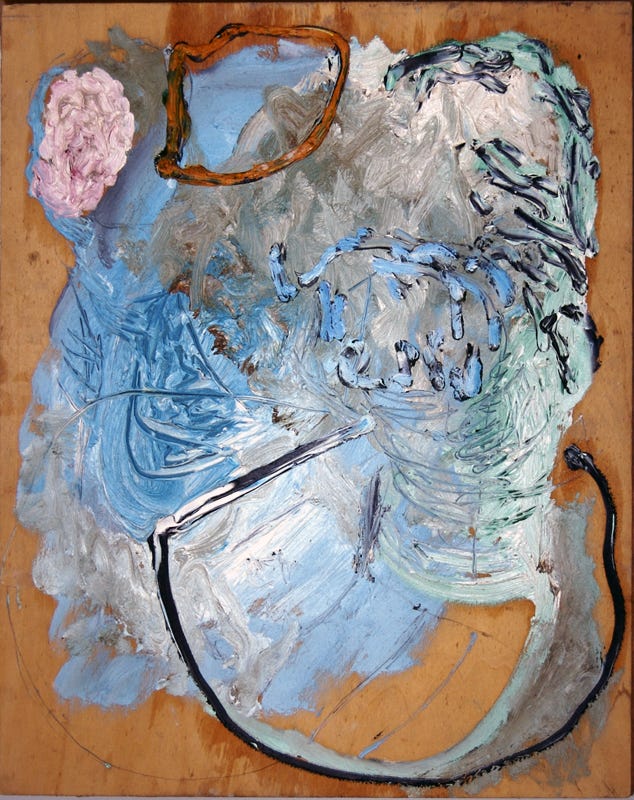 In Stephens' & Swan's biography, deKooning,
(Milton) Resnick said, "There's a dimension that we don't understand. In other words, if you have a landscape or an interior you have space. You can deal with it in terms of image or what-not. But you can't really understand what paint is doing. Paint is doing something that you ask it to do in order to get the nose on somebody's face. The paint also does something that isn't the nose on the face. What it does is fascinating. It's a new geography."
This quote is used to illustrate what deKooning's circle in the late Thirties concerned themselves with in late-night discussions at Stewart's, 23rd and 2nd avenue. This opens two lines of interesting topics. What we might term the alchemy of paint and the social aspect of creating. We'll get to the second point in a later post. A link from Dougald Hine took me to this interview with John Berger. Berger has been one of my most important seminal influences, as well as key to my connecting with Dougald and Dark Mountain. I've written a series of essays on Berger's Moment of Cubism. In this interview, primarily on his new book, Bentos' Sketchbook, Berger says,
"Drawing is a constant correcting of errors. Maybe a great deal of all creation is actually that. There's not really a point where you are suddenly aware there is nothing left to correct. And if it were, well, that would probably be very bad."
Painting proceeds this way. We make stabs, we add "complications" in the hope of generating complexity. We then scramble to make corrections, to attempt to integrate the parts into a whole. We are also deeply aware that there is a mystery to what the paint is doing – that fascinates and eludes us – as well as that we will never reach a point where correction is no longer necessary – though we could be seduced by our own virtuosity, or just the siren call of Ego, into thinking we have. As Berger says, "Maybe a great deal of creation is actually that." I've painted out of the heart-pounding thrill of it. I've also painted out of a deep need to see, and to respond, and shape a version, of what appears. I've also painted because the practice of painting and the questions it continuously brings forth – and holds in front of our eyes so we cannot in good conscience jump to conclusions – has been my most solid guide as I've faced the questions life puts in front of us.